Skilled Nursing
Nationally recognized skilled nursing care
At our modern Majestic Oaks Nursing Center, we provide high-quality skilled nursing services for residents whose chronic or severe medical condition requires long-term care or who need intensive therapy during recovery from an illness, injury or hospitalization.
Our nursing services cater to residents who need around-the-clock skilled nursing and support with activities of daily living.
Delivering expert care with a personal touch
Our team of long-tenured and highly credentialed nurses and caregivers delivers compassionate and personalized care to each resident. We offer a comprehensive range of services, including medication management, wound care, rehabilitation and much more.
What sets us apart is our commitment to consistency and familiarity. Unlike traditional nursing homes, we have a full-time nurse practitioner exclusively dedicated to the residents of Majestic Oaks, ensuring consistent and reliable care. We also collaborate closely with partnering doctors who go above and beyond for our residents. Equally important, we foster a culture of kindness. We take the time to know you and your family, tailoring a care plan that respects your needs and preferences.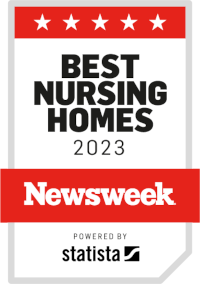 In 2022 and 2023, Majestic Oaks at John Knox Village was ranked #2 in Florida and tied for #2 nationwide in Newsweek's America's Best Nursing Homes list.
The rankings are based on four criteria; a performance data score, a reputation score, a COVID-19 score and a score for facilities accredited by The Joint Commission International, an independent, non-profit healthcare standards organization.
Amenities and services
Licensed nurses on duty 24/7
Full-service pharmacy
On-site clinic with visiting doctors
Three chef-prepared meals daily that comply with individual dietary requirements
Weekly housekeeping and laundry service
Therapeutic social activities
Assistance with personal care, meals and medication
Family-friendly culture with a dining room for private celebrations
We're here to help.
If you'd like to schedule a personal tour or to learn more about life at John Knox Village, our senior living experts are available to answer your questions and provide expert advice. Fill out our contact form or call us at (800) 344-4504.
"*" indicates required fields