Decorating Tips for Your Senior Apartment
| Living at John Knox, News, Resources for Seniors
Decorating Tips for Your Senior Apartment
Keep It Stylish, Smart & Uncluttered
Transform your new Orange City residence into a homey, comfortable nest. Do it right, and this can be one of the most exciting transformations of the entire settling-in process. You'll want to keep in mind that most senior independent living apartments are designed for economical use of space. So as you move in, consider carefully what you bring with you and what you add. Shift your focus to what's most meaningful in your everyday living, and embrace the fun opportunity to start afresh, too.
While your possessions should be sized correctly for a senior apartment, that doesn't mean they have to be tiny. Or boring. Most designers agree that decorating for small spaces means striking a balance between functionality and your personal style. Start to look at your Central Florida living space in a new way with these decorating ideas for small apartments.
Ready, Set, Go
Use what you have? Start over with all-new furniture? Maybe a combination of old and new? Plan ahead. Get the floor plan and measurements of your new rooms and decide which pieces of furniture and decor you will take with you. Prioritize furniture with rounded corners and shapes. Softer shapes offset the angularity of walls and cabinets and provide instant coziness.
Time to put on your decision-making hat. This checklist will get you started:
| | |
| --- | --- |
| YES | NO |
| Coffee table | Bulky desks and armoires |
| Chairs | Big dining table or buffet |
| End table | Collections of tchotchkes |
| Bed and nightstands | Collections of china |
| Lamps | Rolling office chairs |
| Framed pictures | Wobbly or loose furniture |
| One shelf of keepsakes | Glass coffee table or shelves |
| Clock | Decor with sharp edges |
| A vase for flowers | Scatter rugs |
Double Up
If you're buying new, size-appropriate furniture, look for items that double as storage. Ottomans, benches, hall trees with shoe storage — browse your local furniture stores for these hardworking and interesting choices. Challenge yourself to use existing pieces in inventive ways — for example, your ottoman with storage inside becomes a side table when you place a tray on top.
Color Your World
The decorator's rule of thumb is to choose one or two main colors to complement your furniture. Then, pick a bold color for the room's accents. Limit this pop of color to one section of your apartment, as too many statement colors in one space will make it feel crowded.
Find the Focal Point
Great view? Exposed beams? Expansive wall? Identify the features you love and that you can play up as a focal point. Use the placement of your furniture and decor to draw the eye toward it.
What's Your Thing?
New, modern residences are typically open concept. Define smaller spaces within the larger ones for functionality or to express your interests and/or personality. Place a slim buffet or console between your kitchen and dining for easy serving or seasonal display. Create a cozy corner for reading, turn an unused nook into a home office, or add a plant stand for a touch of greenery by the window.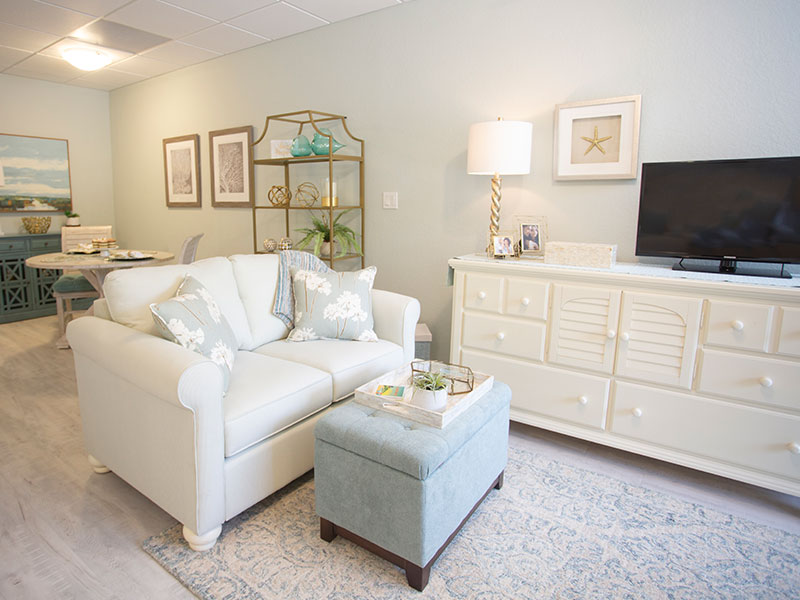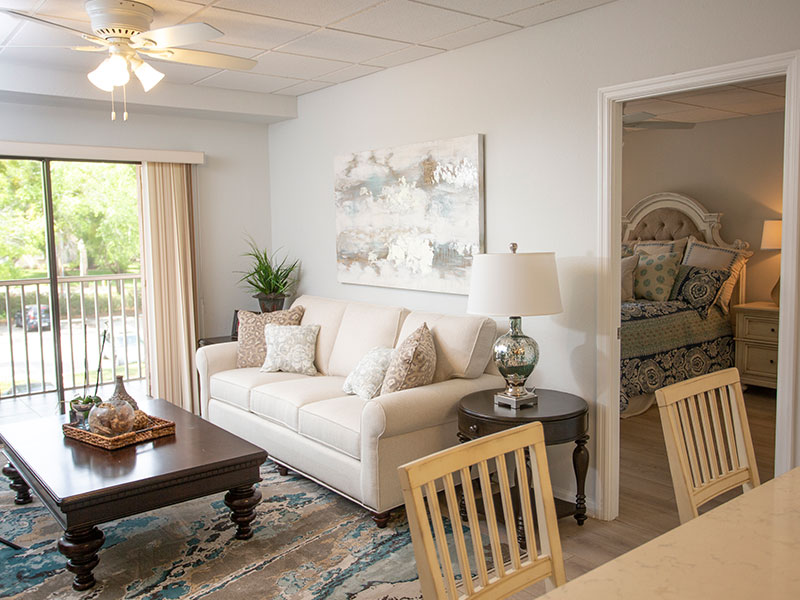 Use Your Noggin
Short on storage space? Store extra baking dishes in the oven when not in use. Turn a corner into usable shelving. Place a basket on top of the fridge for kitchen items you don't use very often. Simple solutions that don't cost anything come from working with what you have in creative ways.
Be Lighthearted
Good lighting is important to anyone whose eyesight isn't as sharp as it used to be. Even in sunny Central Florida, you'll need to consider task lighting for reading or for working at your computer. Use table lamps for a warm and cozy mood when you relax or entertain. Add sensor lights for nighttime trips to the bathroom or kitchen.
For Safety's Sake
Be proactive about your own safety. Add grab bars near your shower, tub and toilet. Place nonslip strips in your bathtub or shower. Get a comfortable seat to use in the shower or at the sink. Get rid of dangling cords or unsecured rugs — cord management tools and gripper mats are inexpensive solutions
Independent-minded seniors love the liberating way of life at John Knox Village. Our full-service senior living community in beautiful Orange City offers luxury senior apartments, spacious garden cottages and modern villas for maintenance-free easy living. Call (386) 775-0788 to learn more today.