The Land Around Us: Lake Helen and Cassadaga
| News
By Louise Caccamise | Photos by Bob Dunham
Many of us hold a cherished memory of a small town at Christmas time. There is no better place to relive that memory than in our neighboring village of Lake Helen. A feeling of quietness and peace encompasses the nearby town. Here every other year, Lake Helen presents a historic tour in a picture-perfect setting. The 2019 Lake Helen Christmas Home and Garden Tour will be held on December 7 and 8. History will come alive when we enter these well-preserved homes of early settlers, their churches and other buildings.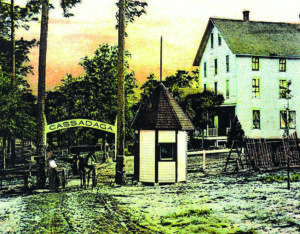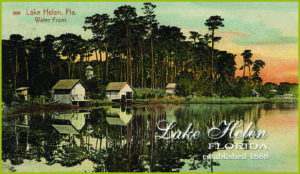 Before becoming Lake Helen, the area was settled about 1858 by James H. Prevatt and called the Prevatt Settlement. Needed provisions were obtained from either Enterprise or Lake Beresford. It was eighteen years before a store was built. The post office was at Blue Spring. Mr. Prevatt was destined to become well known; ten years after his arrival, he became County Judge of what was then Mosquito County. He later became the county treasurer and the superintendent of schools. When Judge Prevatt died in 1883, Henry DeLand bought 340 acres of his estate. He continued purchasing land until he had about 1,000 acres. Mr. DeLand surveyed and made a map of the town in 1884. Having already founded DeLand, Florida, he named the new town and lake after his daughter, Helen Parce DeLand.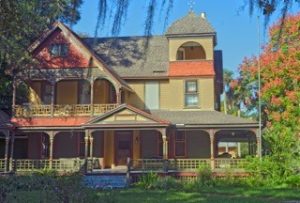 Early in 1884, a sawmill was started and on Thanksgiving eve 1884, Mr. DeLand opened The Harlan House to attract winter visitors. Named after his son, Harlan Page DeLand, the hotel was a great success. A south wing was added in 1886 and a north wing in 1887.
It became both a community center and a tourist center. Built on the lake, there were guest boats in front of the two-story building. The hotel burned down in 1922 and never reopened.
Today, Lakeside Drive provides a beautiful ride around the lake and through the edge of town. The present City Hall building that dates from 1916 was originally the Minerva Bond Long-Lake Helen Elementary School until 1996. The Lake Helen Historical Museum, housed in City Hall in a former classroom of this school, has many artifacts from the town, plus items for sale.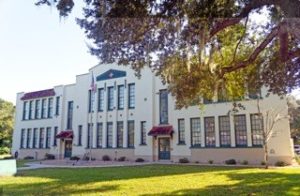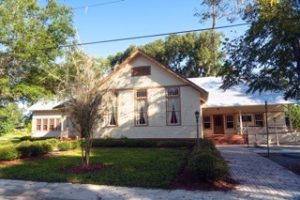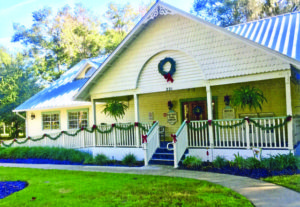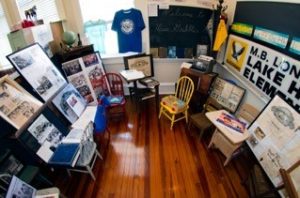 Along tree-lined Euclid Avenue, we find buildings of the past. One building of particular interest is Hopkins Hall with a history going back to 1897, when it opened with a gala dance on Christmas Eve. Built to serve as the community center and library that was housed there for 90 years, it was completely restored in 2007. A well-stocked separate library, built to blend with the community, is now adjacent and is a member of our Volusia County Library System. Hopkins Hall is still used for special events.
Known as, "The Gem of Florida," Lake Helen has two historic churches dating to the 1800s: Blake Baptist Church, 1894 and Lake Helen Congregational Church, 1887.
The modern world found Lake Helen in the late 1960s when Nautilus fitness machine inventor Arthur Jones brought his Nautilus Sports/Medical Industries there for its home base. He built a fifteen-acre complex and Lake Helen found itself in national news. Well-known sports figures were often seen in town. In 1978, Jones moved the manufacturing functions of Nautilus out of state. He eventually sold Nautilus and moved to Ocala.
One of the enjoyable activities in Lake Helen is attending the Shoestring Theater. A wide variety of programs are presented. It was originally started in DeLand at a building on the old Navy base and later moved to Lake Helen where it currently resides in the former location of the Lake Helen School for African American children.
In the nearby village of Cassadaga in 1894, George Colby established The Southern Cassadaga Spiritualist Camp Meeting Association with its spirit-based communication focus.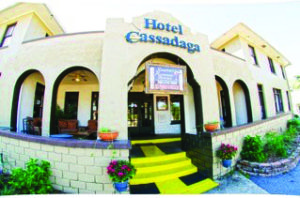 This movement began in New York State where the Cassadaga Lake Free Association, now known as Lily Dale, was formed. Some left it and formed their own group in Cassadaga, Florida. It remains a center for spiritualism. The Andrew Jackson Davis Educational Building and Bookstore on Stevens Avenue are open Monday through Saturday. Both public and private tours of the community are available. Seven meditation parks within the Camp are open to the public.
When entering Cassadaga from Veteran's Memorial Parkway, the winding road through the countryside straightens out to provide space for a hotel, homes and other buildings. The Artisan Restaurant, located in the Cassadaga Hotel, features Italian food, and provides the most noticeable touch of change. There, musical entertainment is provided during the evenings. A well-stocked gift shop is available. In this Spiritualist community, visitors come and go and the way of life continues as it has for 125 years.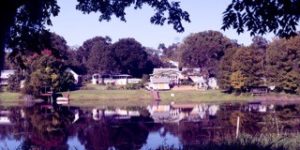 Because the holiday season is approaching, we want to call your attention to the Stetson Mansion in DeLand where holiday tours will be available. The theme this year is, "Coming Home for Christmas." Dating to 1886 and the former winter home of John B. Stetson, this Victorian Mansion has had all its original architectural details restored. Ten rooms will be embellished with designer decorations. The tours are 75 minutes long and by reservation only. They are available from November 15 through January 15. Earlier in 2019 USA Today's "10Best" named the Holiday Home Tour #1 in Florida and #5 in the nation. Located at 1031Camphor Lane in DeLand, a tour of this home is sure to make the season memorable.
Happy Holidays!